Our history and the Team
There has been a garage here for over 100 years now, we believe the original garage was started in 1915. We have some wonderful photographs of the garage from the 1930's which are currently on display in our reception area – and even have clients who recognise family members in the pictures!
When Alex moved into the property he had to decommission two very old petrol pumps and the underground tanks that served them. They would be very valuable collector's items today!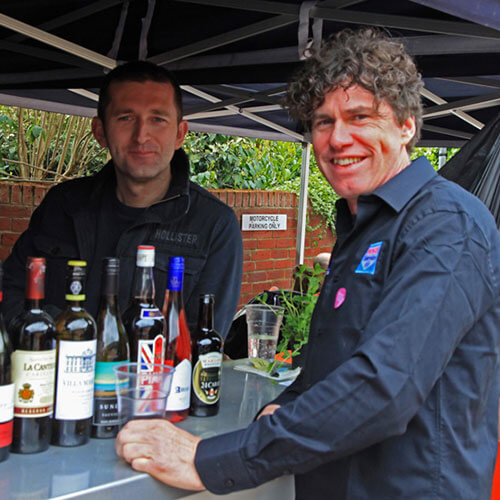 Alex Dunlop
Alex started as an apprentice in a small garage called Short Brothers, cycling to Penn daily. Once he was fully qualified with some experience under his belt he started his own business specialising in Jaguars working from his parents' house.
He worked from a few locations around Beaconsfield and High Wycombe until setting up A J Dunlop Car Servicing in 1994 on the land that is now Beaconsfield Services. When the motorway services plans were being realised in 1998 he moved to the old town of Beaconsfield and took over The Old Town Service Station.
Having grown up in Beaconsfield, Alex is heavily involved in the community raising money for charity through the garage and other charitable organisations, and is a Town Counsellor in Beaconsfield.
Cars and scooters have been Alex's passion for years. He owns a lovely Vespa and an old '64 Beetle and is trying to decide on a new colour scheme for the baby blue beauty.
Sophie
Sophie, Alex's sister, joined AJ Dunlop at the very early stages looking after the financial aspect of the garage. A "behind the scenes" but very important piece of the jigsaw, you may see Sophie come in to collect her paperwork daily.
Mike
Mike joined a few years after Sophie and has been our longest serving technician. He has built up a great deal of knowledge covering all aspects of vehicle maintenance.
Steve
Steve joined Alex over ten years ago and has taken on the role of Workshop Manager. Steve enjoys working on the diagnostic side of car maintenance and has a great knowledge of classic scooters after riding and owning them most of his life.
Andy
Andy has a lot of experience working on both cars and motorbikes. He has designed and had built an award-winning concept bike which is being shown all over England.
Ryan
Ryan initially joined us as a school day release student. He moved onto an apprenticeship and has stayed with us after getting all his qualifications. Ryan not only services and maintains cars and motorbikes, but can step into the role of Service Advisor in the office when required.
Ryan is a keen motorcyclist and enjoys foreign travel.
James
James started with AJ Dunlop as a temporary role but enjoys interacting with clients so much he's still with us! You will recognise his enthusiasm and commitment.
James' background is in set design and building. He spends his spare time socialising and reading books on history, whilst being heavily into music and DJ'ing.
Helen
Helen works with James in the office advising and assisting clients. With a varied career to date, including military duties, Helen uses all the skills her background has given her with great success.
Both James and Helen aim to put your mind at rest when dealing with any maintenance concerns with your car.
Caryn Dunlop
You may meet Alex's wife, Caryn, in the office but she generally sits very much in the background, crunching numbers and coming up with new ideas.
Caryn has been a car and motorbike enthusiast from an early age, making a perfect match for Alex. They have dreams of a house with an even larger garage for a yet to be realised collection of cars, motorbikes (Caryn) and scooters (Alex)"
Visit your local Beaconsfield garage for convenient and reliable
car maintenance and servicing
Visit your local Beaconsfield garage for convenient and reliable car maintenance and servicing