About Us – Our history and the Team
There has been a garage here for over 100 years now, we believe the original garage was started in 1915. We have some wonderful photographs of the garage from the 1930's which are currently on display in our reception area – and even have clients who recognise family members in the pictures!
When Alex moved into the property he had to decommission two very old petrol pumps and the underground tanks that served them. We wish we'd kept them as they would be very valuable collector's items today.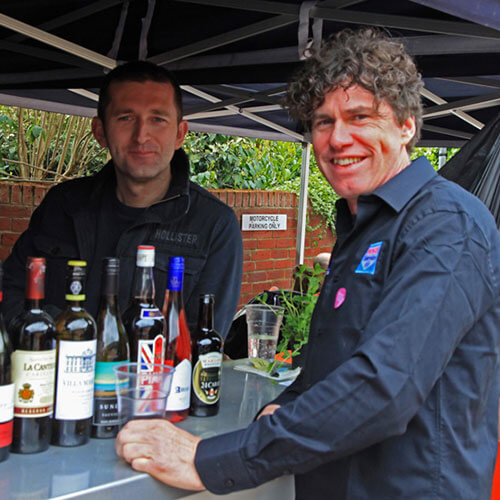 Alex Dunlop
Alex started as an apprentice in a small garage called Short Brothers, cycling to Penn daily. Once he was fully qualified with some experience under his belt he started his own business specialising in Jaguars working from his parents' house.
From 1983 he worked from a few locations around Beaconsfield and High Wycombe until setting up on the land that is now Beaconsfield Services. When the motorway services plans were being realised in 1998 he moved to the old town of Beaconsfield and took over The Old Town Service Station.
Having grown up in Beaconsfield, Alex is heavily involved in the community raising money for charity through the garage and other charitable organisations and is a Town Councillor in Beaconsfield.
Cars and scooters have been Alex's passion for years. He owns a lovely Vespa and an old '64 Beetle and is trying to decide on a new colour scheme for the baby blue beauty.
Steve
Steve joined Alex over ten years ago and has taken on the role of Workshop Manager. Steve enjoys working on the diagnostic side of car maintenance and has a great knowledge of classic scooters after riding and owning them most of his life.
Neil
Neil has years of experience with cars and is a total car fiend through and through (whether he has oil in his veins instead of blood has yet to be proven).  He spent many years as a Volvo MasterTech and worked on the fabulous new models being shown around the world as part of Volvo's press workshop.
Ryan
Ryan initially joined us as a school day release student. He moved onto an apprenticeship and has stayed with us after getting all his qualifications. He services and maintains both cars and motorbikes, being a keen motorcyclist himself, and enjoys foreign travel – often saving up his holiday for fabulous locations and telling us wonderful stories of exotic places.
James
James started with AJ Dunlop as a temporary role but enjoys interacting with clients so much he's still with us!  You will recognise his enthusiasm and commitment.  James' background is in set design and building which meant he lived abroad for many years. He spends his spare time socialising and reading books on history, whilst being heavily into music, but the new love of his life is his motorbike having finally officially passed his test last year.
Lee
Lee works with James in the office advising and assisting clients. Lee's background was bicycles which has many parallels with this role meaning when he started in early 2018 he seemed to hit the ground running.  Lee plays footfall, loves his car – and dog!
Both James and Lee aim to put your mind at rest when dealing with any maintenance concerns with your car.
Caryn Dunlop
You may meet Alex's wife, Caryn, in the office but she generally sits very much in the background, crunching numbers and coming up with new ideas.
Caryn has been a car and motorbike enthusiast from an early age, making a perfect match for Alex. They have dreams of a house with a generous garage for a yet to be realised collection of cars, motorbikes (Caryn) and scooters (Alex)
Visit your local Beaconsfield garage for convenient and reliable
car maintenance and servicing
Visit your local Beaconsfield garage for convenient and reliable car maintenance and servicing